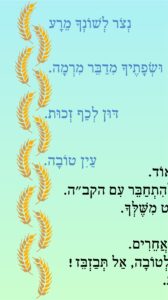 דף עיון 
דף עבודה
דף לימוד 
Free hebrew class printable!
You can print this class poster using your desktop printer! US letter size 11″ x 8.5″ 
CLASS HANDOUTS!
MIDDOT
SOUND MORALS
GOOD ETHICS
TEACHING CHILDREN TO BEHAVE
A list in Ivrit with Nikkud of important rules for your students to learn good behavior skills.
This poster can be laminated and displayed in the classroom!
The format is letter size so students can place them inside their binders or glue them on the front.
You can turn each sentence into a lesson in of itself.
Check out my other class posters on this website and recommend to other teachers!