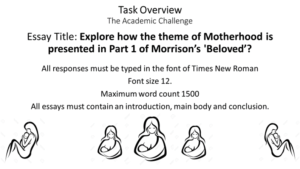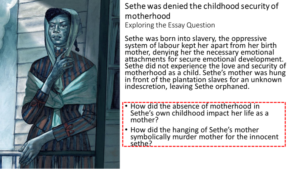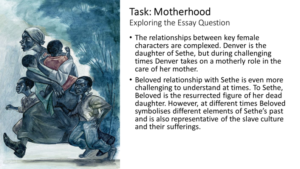 Toni Morrison's 'Beloved' remains an essential text to support our understanding of the post-modern dilemmas of racial inequality. I have taught this novel a number of times and have refined this resource at the close of every academic year. It works! I have successfully used this resource to lead my teaching in the classroom, as a homework and distance learning material and even as a tool of revision – all have worked well for the students.
This beautifully illustrated forty (yes, 40) slide PowerPoint lesson contains a step by step guide on writing an A level essay response.
Explore how the theme of Motherhood is presented in Part 1 of Morrison's 'Beloved'?
It is particularly suitable for unconfident students, or students that work at a slower pace than their peers. I have received exceptional feedback from the students regarding this specific resource and the English department as a whole. There is no work for you to complete whatsoever. This is a complete resource. Enjoy.