You can now own "The Pirate Captain Toledano" on DVD!
"The Pirate Captain Toledano" is the award-winning short film by filmmaker Arnon Z. Shorr. It is the world's first film set in the world of Jewish pirates in the Caribbean.
[su_vimeo url="https://vimeo.com/261213967″]
"The Pirate Captain Toledano" tells the story of a Jewish refugee from the Spanish Inquisition who wants to join a pirate crew to attack Spanish ships. When he is caught as a stowaway on a pirate ship, the Pirate Captain Toledano must decide whether to make him a pirate… or to make him walk the plank.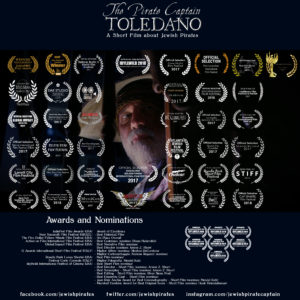 Total Running Time: 10 minutes
DVD Region: Region Zero (universal compatibility)
Bonus Features:
-Director's Commentary by Writer/Director Arnon Z. Shorr
-Commentary on Historical Accuracy by Pirate History Consultant Richard Rasner
-Subtitles in Spanish, Italian and French
DELIVERED ONLY TO USA.
| | |
| --- | --- |
| Category | Film, History, Jewish Culture, Visual and Performing Arts |
| Tag | 10th Grade, 11th Grade, 12th Grade, 9th Grade, Adult Education, College/University, Informal Education, Not Grade Specific, Other, Staff |