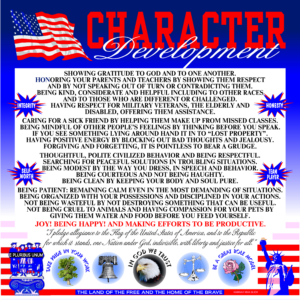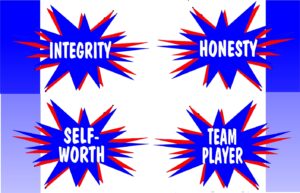 The Recommended printing size is 16″ x 16″.  Have your printer laminate them for durability.
This educational poster encourages sound morals, good ethics and teaching youth to behave.
Character Development Poster.  It is suitable for the classroom, cafeteria, college campus, university campus, the staff room, the waiting room, the lunchroom and home. A wonderful skill set list for all ages and for people from all walks of life. 
FREE DOWNLOADS 
May be used for digital media, handouts, posters, flyers, handouts, all types of printing, etc.  
If selling for a profit, however, the condition is that you tithe to Tzeddakah/Charity.
Designed by Hannah Niva Glick.
On the top left is the Star Spangled Banner stirring emotions of being PROUD TO BE AN AMERICAN.  American Patriotic posters are beautiful, bright and attractive whilst being educational.  It encourages motivation and good behavior whilst teaching moral and social values. 
SHOWING GRATITUDE TO GOD AND ONE ANOTHER.
HONORING YOUR PARENTS AND TEACHERS BY SHOWING THEM RESPECT AND BY NOT SPEAKING OUT OF TURN OR CONTRADICTION THEM.
BEING KIND , CONSIDERATE AND HELPFUL INCLUDING TO OTHER RACES AND TO THOSE WHO ARE DIFFERENT AND CHALLENGED.
HAVING RESPECT FOR MILITARY VETERANS, THE ELDERLY AND DISABLED, OFFERING THEM ASSISTANCE.
CARING FOR A SICK FRIEND BY HELPING THEM MAKE UP FROM MISSED CLASSES.
BEING MINDFUL OF OTHER PEOPLE'S FEELINGS BY THINKING BEFORE YOU SPEAK.
IF YOU SEE SOMETHING LYING AROUND HAND IT IN TO LOST PROPERTY.
HAVING POSITIVE ENERGY BY BLOCKING OUT BAD THOUGHTS AND JEALOUSY.
FORGIVING AND FORGETTING IT IS POINTLESS TO BEAR A GRUDGE.
THOUGHTFUL, POLITE, CIVILIZED BEHAVIOR AND BEING RESPECTFUL.
SEARCHING FOR PEACEFUL SOLUTIONS IN TROUBLING SITUATIONS.
BEING MODEST BY THE WAY YOU DRESS, IN SPEECH AND BEHAVIOR.
BEING COURTEOUS AND NOT BEING HAUGHTY.
BEING CLEAN BY KEEPING YOUR BODY AND SOUL PURE.
BEING PATIENT, REMAINING CLAM EVEN IN THE MOST DEMANDING OF SITUATIONS.
BEING ORGANIZED WITH YOUR POSSESSIONS AND DISCIPLINED IN YOUR ACTIONS.
NOT BEING WASTEFUL BY NOT DESTROYING SOMETHING THAT CAN BE USEFUL.
NOT BEING CRUEL TO ANIMALS AND HAVING COMPASSION FOR YOUR PETS BY GIVING THEM WATER AND FOOD BEFORE YOU EAT.
JOY! BEING HAPPY AND MAKING EFFORETS TO BE PRODUCTIVE
It also features the National Anthem, the Statue of Liberty, the American Bald Eagle, the Rose, the Oak tree, The American Flag, Liberty Bell and Scales representing Justice. American Students wearing their Cap and Gown.
THE PLEDGE OF ALLEGIANCE:
"I PLEDGE ALLEGIANCE TO THE FLAG OF THE UNITED STATES OF AMERICA, AND TO THE REPUBLIC FOR WHICH IT STANDS ONE NATION UNDER GOD, INDIVISIBLE WITH LIBERTY AND JUSTICE FOR ALL"
KEYWORDS INCLUDE: TAKE PRIDE IN YOUR WORK, IN GOD WE TRUST, BE A GREAT ROLE MODEL, TEAM PLAYER, HONESTY, INTEGRITY and SELF-WORTH.
EPLURIBUS UNUM.
THE LAND OF THE FREE AND THE HOME OF THE BRAVE.
| | |
| --- | --- |
| Category | English, English as a second language, English language arts, Languages, Other, Religion, Social Studies, Wellness/Fitness/Family & Consumer Science |
| Tag | 10th Grade, 11th Grade, 12th Grade, 1st Grade, 2nd Grade, 3rd Grade, 4th Grade, 5th Grade, 6th Grade, 7th Grade, 8th Grade, 9th Grade, Adult Education, College/University, Homeschool, Informal Education, Kindergarten, Not Grade Specific, Other, Pre-K, Staff |