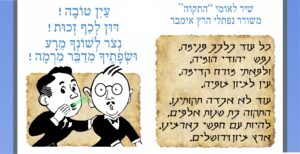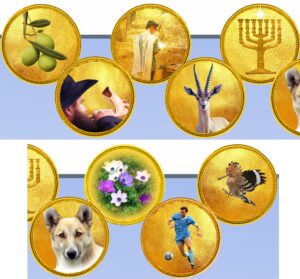 GOOD BEHAVIOR POSTERS PERFECT FOR THE JEWISH SCHOOL FREE DOWNLOADS  May be used on digital media, posters, flyers, handouts, all types of printing, etc.   If selling for a profit, however, the condition is that you tithe to Tzeddakah/Charity. 18″x24″ Please print the recommended size, or larger if you so desire, since the credits have to be legible for legal reasons. They look fantastic laminated and are very durable. For the classroom or home, this Israeli patriotic poster has many important and valuable lessons for our youth, young adults and ourselves. It makes for a great gift too! for a teacher, the school lunchroom, your kids' playroom, the office… a friend or for their children, Bar Mitzvah or  Bat Mitzvah. A skill set list for Good Behavior, Character Development, Middot Tovot, Middos Tovos or Tikkun. Most noteworthy is the fact that it's a priceless reference tool and motivational poster.  Furthermore, they're colorful, patriotic and eye catching whilst being educational and informative. Behavior is spelled behaviour and honoring is honouring, etc in Great Britain that is with an "U" so if ordering from abroad please drop us a line and we'll cater for your spelling and language preferences. Poster Design: Hannah Niva Glick. National Symbols of Israel:
Anthem HATIKVAH Poet Naftali Herz Imber Musical Composition Samuel Cohen.
Sport SOCCER Photographer Israeli Zvika.
CANAAN Dog courtesy of Kennel Chanko.
Animal GAZELLE photographer Bernard Dupont.
Flower ANEMONE CORONARIA photographer Zachi Evenor.
OLIVE TREE photographer Oren.
HOOPOE bird photographer Yaki Zander.
Tekiyat Shofar photographer Minuzig.
FLAG photographer Hannah Niva Glick.
Knesset Menorah photograph from Ladymantequilla. KOTEL photographer Hannah Niva Glick. This Zionist poster Teaches and instills MANNERS, REFINEMENT, RESPECT, THOUGHTFULNESS, COURTESY, COMPASSION, CHIVALRY & POSITIVE BEHAVIOR. קידוש ה׳  SANCTIFYING  HASHEM'S NAME, BEING A GREAT ROLE MODEL! הכרת הטוב   SHOWING GRATITUDE TO GOD AND TO ONE ANOTHER. כיבוד אב ואם  HONORING YOUR PARENTS BY SHOWING THEM RESPECT & BY NOT SPEAKING OUT OF TURN OR CONTRADICTING THEM. כבוד הרב   LISTENING TO YOUR TEACHERS & BEING RESPECTFUL AT ALL TIMES. שמירת הלשון   BEING MINDFUL OF OTHERS' FEELINGS & "THINK BEFORE YOU SPEAK". מפני שיבה תקום  HAVING RESPECT FOR MILITARY VETERANS, THE ELDERLY & DISABLED/CHALLENGED, OFFERING THEM ASSISTANCE. צער בעלי חיים  NOT BEING CRUEL TO ANIMALS & HAVING COMPASSION FOR YOUR PETS BY GIVING THEM WATER & FOOD BEFORE YOU FEED YOURSELF. שלום   SEARCHING FOR PEACEFUL SOLUTIONS IN UNSETTLING SITUATIONS. צניעות  BEING MODEST BY THE WAY YOU DRESS, IN SPEECH & BEHAVIOR. ענווה    HAVING HUMILITY, BEING HUMBLE & NOT HAUGHTY. אמת  ALWAYS BEING TRUTHFUL. תשובה   REPENTANCE, MAKING AMENDS. הכנסת אורחים  BEING A KIND & THOUGHTFUL HOST. נקיון BEING CLEAN BY KEEPING YOUR BODY & SOUL PURE. צדקה  BEING CONSIDERATE & GIVING CHARITY TO THOSE IN NEED. תפילה   MAKING TIME FOR CONNECTING & BONDING WITH HASHEM. סבלנות   BEING PATIENT, REMAINING CALM EVEN IN THE MOST DEMANDING OF SITUATIONS. השבת אבידה IF YOU SEE SOMETHING LYING AROUND HAND IT IN TO "LOST PROPERTY". ביקור חולים  VISITING YOUR SICK FRIEND & HELPING THEM MAKE UP FROM MISSED CLASSES. חסד  BEING KIND, CONSIDERATE & HELPFUL INCLUDING TO THOSE FROM OTHER ETHNICITIES & THOSE WHO ARE DIFFERENT OR CHALLENGED. בל תשחית  NOT BEING WASTEFUL BY NOT DESTROYING SOMETHING THAT CAN BE USEFUL. סדר  BEING ORGANIZED WITH YOUR POSSESSIONS & DISCIPLINED IN YOUR ACTIONS. שמחה  JOY! BEING HAPPY! ALSO, MAKING EFFORTS TO BE PRODUCTIVE. סליחה ומחילה  FORGIVING & FORGETTING, IT IS POINTLESS TO BEAR A GRUDGE. אהבת ישראל   BEING COURTEOUS, KIND AND CONSIDERATE TO PEOPLE WITH DIFFERENT MINHAGIM & FROM DIFFERENT BACKGROUNDS. רחמנים בני רחמנים   BEING KIND & HELPFUL TO EACH OTHER IF NEGATIVE OR JEALOUS THOUGHTS  MIGHT ARISE SIMPLY SWEEP THEM AWAY. דרך ארץ וכבוד  BEHAVING IN A THOUGHTFUL, RESPECTFUL, POLITE & CIVILIZED MANNER. Key words:  Motivational posters, cool posters, school posters
| | |
| --- | --- |
| Category | Hebrew, Hebrew as a second language, Israel, Israeli Culture, Jewish Culture, Judaic Studies, Languages, Other, Religion, Social Studies, Wellness/Fitness/Family & Consumer Science |
| Tag | 10th Grade, 11th Grade, 12th Grade, 1st Grade, 2nd Grade, 3rd Grade, 4th Grade, 5th Grade, 6th Grade, 7th Grade, 8th Grade, 9th Grade, Adult Education, College/University, Homeschool, Informal Education, Israeli Culture, Kindergarten, Not Grade Specific, Other, Pre-K, Staff |